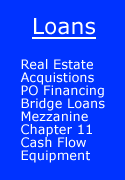 Ask The Expert
Venture Capital starts here, with the finance information you need to take your venture from concept to completion.
...easy access to specific funding strategies for entrepreneurs, provided by experienced professionals.
Here is your opportunity to -Ask the Expert-
William F. McCready, President and CEO of Venture Planning Associates, will answer a frequently asked question about venture capital, business finance, or business development by email. But be sure to check out the Previous Questions section first.
The most frequently asked question?

How do I get funding for my project?
If you already have a complete business Plan then check our our Angel Funding Strategies.
If you are just getting started or would like a professional Tune Up of your plan and program before putting it on the street, click here.
If you want to do all the documentation your self, check out this site and then go to VentureMap! for a complete road map to venture capital financing.
Expert Zine
We will also sign you up to receive our monthly Expert-Zine, hot topics by CEO's, CFO's, entrepreneurs and other highly qualified experts in their fields. We suggest you review some of the past Expert-Zines for additional insights into building your business.
"Our goal is to provide you the best funding tools available and to get your project funded quickly."
Bill McCready, CEO
Venture Planning Associates,
"Out of the hundreds of sites offering business plan products and services, your VenturePlan site is among the best, if not the best. "
Mike Rischard CPA, President, Agilecor

"When we received first round funding ($5 million) the VC firm asked us to show them how our financial models were created. They wanted to use OUR TEMPLATE (which we developed from the 7 Venture Capital Reports) to help them evaluate alternative scenarios for their portfolio companies!" Michael .Lay, CFO, e-Commerce Internet Company