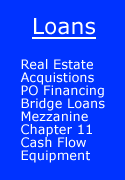 Business Valuations
How Much is Your Business Worth?
There are seven methods to value a business as approved by the IRS. With the advent of the Internet other methods have also been developed to assist with these special types of business. If you business is exclusively and Internet Business click here. For standard of mixed business type use these guidelines.
First Chicago Method
The First Chicago Method is used to value venture type businesses by Venture Capital firms. High risk ventures are usually valued using the First Chicago Method that evaluates probabilities of success (IPO), the sideways scenario, and the failure scenario (liquidation). This method uses a high risk adjusted discount rates and embodies many assumptions.
We specialize in the First Chicago Method as a means of determining the pre and post investment values for entrepreneurial (pre-IPO) business investments.
Valuation Services
Venture Planning provides valuations for any of the above listed IRS scenarios. For a valuation of your existing or startup business contact us.
Venture Planning Associates also provides valuations of sole proprietorships, partnerships, or corporations with one class of stock, and provides comparisons with industry standards.
For a Sample Valuation Report showing all methods and a sample valuation spreadsheet, Click Here
Reasons to Value a Business
When Buying or Selling
When Raising Venture Capital
Payment of Estate taxes
Divorce Settlements
Buy/Sell Agreements
Stock Re-capitalization
Payment of Gift Taxes
Shareholder Disputes
Information required (maximum number of years possible
Balance Sheets
Income Statements
Cash Flow Statements
Earnings Projections
Business Comparable's if available
Seven Valuation Types
Adjusted Net Assets
Capitalization of Earnings
Dividend Paying Capacity
Excess Earnings: Return on Assets
Excess Earnings: Return on Sales
Discounted Cash Flow
Discounted Future Earnings
Combination Method Weighted Average of All Types
Is Your Private Business for Sale?
Call us for information (888.404.1212) or eMail us on how you can make the sale of your founders stock at exit a tax free or tax deferred event. This simple technique would have saved us over 25% in taxes at the sale of one of our companies had we known in advance. We can also provide some money making tips for those of you just completing and IPO.
"Our goal is to provide you the best funding tools available and to get your project funded quickly."
Bill McCready, CEO
Venture Planning Associates,
"Out of the hundreds of sites offering business plan products and services, your VenturePlan site is among the best, if not the best. "
Mike Rischard CPA, President, Agilecor

"When we received first round funding ($5 million) the VC firm asked us to show them how our financial models were created. They wanted to use OUR TEMPLATE (which we developed from the 7 Venture Capital Reports) to help them evaluate alternative scenarios for their portfolio companies!" Michael .Lay, CFO, e-Commerce Internet Company