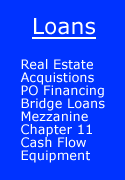 Financial Modeling
One of the most important business plan exercises is to create a viable financial model for your business. The model should included a complete "integrated" model that includes the following:
Set of Business Assumptions for all other statements
Profit and Loss Statement
Cash Flow Statement
Balance Sheet Statement
Financial Ratios
What-If Scenarios
The financial model should be used to not only test all your assumptions but provide multiple scenarios of your plan, so you can explore the possibilities of better than expected results against worst case scenarios.
The important thing in this exercise is to find the critical control elements of the model. i.e. is your plan dependent on supplier pricing, competitive prices, labor costs, capital costs, etc.
By solving for Cash Flow required, one of the most important issues will come directly to the forefront. Payment and collection cycles, capital requirements, loan terms and interest rates as well as tax requirements come to the forefront.
When solving for the cash necessary to fund you venture, one should NEVER rely on a yearly only model. Annual cash flow statements hide the true cash flow picture.
Investor Returns and Deal Structuring
A strong financial model and valuation also gives you flexibility and a strategy for funding your venture. If there is never enough cash to pay investors or lenders, then you either need to change your business model, or modify the terms of your deal structure to match the financial model.
Financial Modeling
Venture Planning has extensive experience in financial modeling, multiple scenarios and cash flow analysis of growing companies.
We have provided basic financial models for many types of businesses. Our basic financial models include monthly, quarterly and annual projections for a five year period.
Contact us for a quotation on more a complete package requirements.
"Our goal is to provide you the best funding tools available and to get your project funded quickly."
Bill McCready, CEO
Venture Planning Associates,
"Out of the hundreds of sites offering business plan products and services, your VenturePlan site is among the best, if not the best. "
Mike Rischard CPA, President, Agilecor

"When we received first round funding ($5 million) the VC firm asked us to show them how our financial models were created. They wanted to use OUR TEMPLATE (which we developed from the 7 Venture Capital Reports) to help them evaluate alternative scenarios for their portfolio companies!" Michael .Lay, CFO, e-Commerce Internet Company