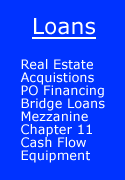 Capitalization Plan
One of the most difficult decisions faced by most businesses is how to structure its capital allocations. There are many conflicting issues that confront the growing business. How do you compensate the following groups of investors fairly:
Company Founders who put in sweat equity by taking reduced salaries
Company Founders who put in the initial seed capital
Family and Friends who support the company in the high risk seed capital stage
Angel Investors who may contribute both cash and expertise
Outside Board Members who lend credibility and corporate governance support. These individuals also lend credibility with later stage investors and venture funds
Vendors and others who may provide convertible debt
Stock Options, warrants and other incentives given to employees, consultants or vendors
Venture Funds throughout the various rounds of financing.
One thing we have learned. You will always be raising money and the issue of value of the round and the milestones your set will be THE STICKING POINT as you attempt to raise additional capital.
Valuation and Capital Planning System
This portion of the Venture Planning Program gives you six spreadsheets, that include:
Methods of calculating the value of your business,
How to set up the capitalization structure of your business,
How to figure stock programs for underpaid executives and financial guarantees.
An explanation of dilution factors for various investment rounds plus a spreadsheet on how to calculate three rounds of complex financing.
We also offer consulting assistance, valuations and deal structuring services to assist you with your capitalization requirements. Listing of Angel Investors.
"Our goal is to provide you the best funding tools available and to get your project funded quickly."
Bill McCready, CEO
Venture Planning Associates,
"Out of the hundreds of sites offering business plan products and services, your VenturePlan site is among the best, if not the best. "
Mike Rischard CPA, President, Agilecor

"When we received first round funding ($5 million) the VC firm asked us to show them how our financial models were created. They wanted to use OUR TEMPLATE (which we developed from the 7 Venture Capital Reports) to help them evaluate alternative scenarios for their portfolio companies!" Michael .Lay, CFO, e-Commerce Internet Company