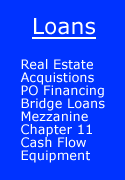 How to Get a Loan (every time!)
How to get bankers to chase you!
How many times have you heard that the only way to get a loan is not to need it? We can show you how we have obtained large loans (up to $1.3 million) for clients who have never before been in business and did not have sufficient assets to collateralize a loan. These methods can work for you.
Can you answer these 15 questions?
How do you tell if your bank even has any money to loan?

How do you choose a banker who will work for you and not the bank?

What are the four reasons companies borrow money?

What are the advantages of debt over all equity? What are the disadvantages?

How and why should business plan should be different for the bank than for a private investor?

What criteria does the bank use to evaluate your proposal?

What are the 4 C's of commercial lending, and how do you document yours?

What type of loan should you apply for and when?

What debt to equity ratios will a bank look for with various businesses and why?

You have the loan, now what?

What to do if you can't meet your payments?

How do you re-negotiate a loan?

What are your bankers' limits and how do you find out?

What internal process will your loan follow, and how long will it take?

How do you structure leveraged buy outs (LBO) and mergers and acquisitions?
When you read the complete guide to Dealing with Banks, Report #6 of our Venture Capital Reports package, you will learn how to identify which bank to use, and what to do before you prepare your loan package.
BONUS: Financial Ratio Analysis Report
As a bonus, you will receive a complete financial statement and ratio analysis of a sample company. This supplement gives you complete instructions on how to calculate 76 key financial ratios, and explains how to use them.
"Our goal is to provide you the best funding tools available and to get your project funded quickly."
Bill McCready, CEO
Venture Planning Associates,
"Out of the hundreds of sites offering business plan products and services, your VenturePlan site is among the best, if not the best. "
Mike Rischard CPA, President, Agilecor

"When we received first round funding ($5 million) the VC firm asked us to show them how our financial models were created. They wanted to use OUR TEMPLATE (which we developed from the 7 Venture Capital Reports) to help them evaluate alternative scenarios for their portfolio companies!" Michael .Lay, CFO, e-Commerce Internet Company