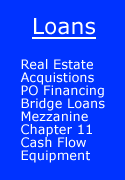 Documentation for Venture Capital Firms
and Funding Sources
Focus on the Financial
Many business plans fail to raise money because of the orientation of the business plan, i.e., the plan focuses on the product or service, not the financials. When we assisted with the review of over 150 business plans for a three day Venture Capital Conference for 23 venture capital companies, only 25 of the 150 plans asked for specific funding. Only 12 had specific uses of funds and exit strategies for investors!
While we cannot promise your business will be funded, we can assure you that with our business plan review program , your entire presentation package will be developed so that your chances of being funded will be significantly increased.
It is important to remember that there is more money looking for a good investment with moderate returns and medium risk, than there are "good deals".
Stages of Documentation
There are several stages of documentation required by most funding sources during the venture capital process . They are usually tailored specifically to both the funding source being approached, and the stage of your business. The primary documents are outlined below:
1. Market Feasibility Study:
Basic research done principally by the entrepreneur to identify a market niche for the product or service to be offered. Identify the size, dynamics, competition, and other factors effecting the proposed business operation prior to investing large sums of money, or proceeding with a "missionary marketing" venture with little or no chance for success.
2. Executive Summary:
An outline of the complete business plan, usually only 4-8 pages long. It includes and describes principal markets, personnel, financial highlights, and the proposed deal structure . The Executive Summary is developed from the completed business plan, and summarizes the project.
3. Business Plan:
The business plan contains the complete plan for your business, including extensive market and industry analysis, sales and marketing strategy, operational plans and timetables, management organization structure and key personnel, risk analysis (including competitors and comparable industry numbers), and complete historical and pro forma financial analysis (including income and expenses, cash flow, balance sheet and ratio analysis) for three to five years. The business plan financials should include low, medium and optimum projections for various market conditions.
4. Business Valuation Study:
A document that includes several business valuation studies showing business values before and after investment. Business valuations allow you to determine how much stock to sell for the money you are raising.

This is extremely important when you are trying to raise money for a business that will be a candidate for a merger/acquisition, or an Initial Public Offering (IPO) at a later date. It is also required for funding by professional investors so that adequate returns on investment are shown.
5. Investment Plan:
Document outlining in further detail the timetable of required equity and debt financing, as well as the payback, or liquidation, of the investors' position under various scenarios. This is where the "Deal" is structured to make your business attractive to investors and lending institutions.
6. Due Diligence and Supporting Documents:
Include all additional information to support and supplement the business and investment plans. Do your own Due Diligence on the sources of funds and the funding sources prior to making a deal.
7. Presentation Package:
Your marketing package is used to present your program to others. It may be a short series of color slides or overheads, or a Power Point presentation, used when talking with investors or banks. Your marketing package is developed along with your business plan and can enhance chances of funding.

Your completed Business and Investment Plan is a blueprint for the success of your business. It should be a living document that is revised and updated periodically as conditions change, or when new markets and products are developed, additional funding is obtained, or economic conditions change .
Have your business plan reviewed by a professional Venture Capitalist.
We recommend that at least semiannual review of all of these documents be performed by your management team.
"Our goal is to provide you the best funding tools available and to get your project funded quickly."
Bill McCready, CEO
Venture Planning Associates,
"Out of the hundreds of sites offering business plan products and services, your VenturePlan site is among the best, if not the best. "
Mike Rischard CPA, President, Agilecor

"When we received first round funding ($5 million) the VC firm asked us to show them how our financial models were created. They wanted to use OUR TEMPLATE (which we developed from the 7 Venture Capital Reports) to help them evaluate alternative scenarios for their portfolio companies!" Michael .Lay, CFO, e-Commerce Internet Company