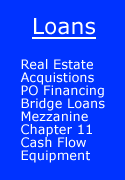 "Angel" Investors
Did you know that more than 80% of all new businesses are funded by private investors? This huge hidden resource of private funding is usually right under your nose, but up to now, no one has told you how to contact these "Angels".
Venture Capital returns have averaged 20% per year historically. They are the highest compared to other investments. Remember this is the compounded annual rate of return earned by investors. Since they usually are right only 20% of the time, the real hurdle rate needs to be at least 80% annual return to make up for their losses. Just want a list of Angels?
What You Need to Know About Private Funding Sources,
One investor will often assist in the funding of multiple projects. Here's what you need to know:
Who typically invests in private deals.
The amounts of money possible from private investors.
How these investors will normally participate.
What they bring to your project besides money.
What type of returns they require and over what period of time.
Where you can meet or be introduced to the right people.
How you avoid the scams and shams that waste your time.
How you check out the money sources, and find out if they are clean and legitimate.
The criteria private investors use to evaluate your deal.
How and when to approach seed or venture capital funds, and how they will evaluate your project.
Why you should not contact a fund directly without an introduction.
How to get that introduction.
The deal criteria for Venture Capital funds.
How Venture Capital Funds operate, and what they expect from their portfolio companies.
Private Investors (Angels) and How to Reach Them
Venture Planning Associates, Inc. has published a detailed, 10,000 word report outlining everything you need to know about identifying private (angel) investors, where and how to meet them, how they invest, investment amounts you can normally expect, and what they expect from you. As a bonus, you will get the inside information on a typical venture capital fund and how it operates.
This report also covers how professional investors and venture capital firms evaluate your deal, and why. You also receive a special case study of a "Home Run Company" and how they did it. Plus how to identify, choose and compensate a finder or broker using the Lehman Formula.
Even if you don't know anyone now who has money to invest, did you know that within a week you will be able to develop a list of 20 or more qualified investors by following three easy steps?
Once you have the list, how will you identify and approach investors and in what order?
Do you know where to find private investors or partners who will introduce you to the right Venture Capital Funds?
Do you know how to get your plan read by a Venture Capital firm?
Order Report #7, "Private Investors (Angels) and How To Reach Them"
If you think you are ready for funding now without any additional preparation, check our marketing partners databases of
AngelSearch™ combs government records to gather investment data, industry preferences and total stock positions of America's wealthiest individuals. Giving you unlimited access to valuable contact information on potential Angel investors, customers and clients. An invaluable tool if you are trying to raise capital, find investors or wealthy new customers in your area.
Every individual in our database has a net worth* of at least $1 million. AngelSearch™ is constantly updated, cleaned and checked for accuracy. You can search the database as many times as you like, result counts are always free. Once you get a count of wealthy individuals that match your needs, you can buy all matching records (see a sample record), a portion of the records, refine your search or start a new one!
Records start as low as $1.00 (see our Pricing Menu) each and are immediately delivered online, right into your browser!
Who's got the money in your area or industry? Find out now. Order the Venture Capital Firms and Angel Investors.
"How to Raise Your First Million Dollars" - The Ultimate Guide To Angel Investors
"Our goal is to provide you the best funding tools available and to get your project funded quickly."
Bill McCready, CEO
Venture Planning Associates,
"Out of the hundreds of sites offering business plan products and services, your VenturePlan site is among the best, if not the best. "
Mike Rischard CPA, President, Agilecor

"When we received first round funding ($5 million) the VC firm asked us to show them how our financial models were created. They wanted to use OUR TEMPLATE (which we developed from the 7 Venture Capital Reports) to help them evaluate alternative scenarios for their portfolio companies!" Michael .Lay, CFO, e-Commerce Internet Company