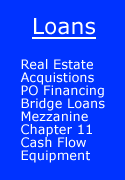 28 Ways to Finance Your Venture
Formal Venture Capital Is Not The Only Way To Finance Your Project!
What alternative methods can you use to get your project off the ground? How to do you go about it? These are not government sources or other hard to qualify for programs. We have used many for our clients over the years. All will work in certain circumstances, and some may work for you.
We recently funded a project for $1.3 million using a combination of nine little known techniques.
Alternative Financing Techniques
What are the optimum ways to fund a service business, retail store, R & D or manufacturer?

What is required to qualify for these programs?

How can you use off balance sheet collateral to obtain financing?

What most Realtors or landlords won't tell you until you ask.

How can you get your suppliers and vendors to finance your business?

What do you need to know from your bank before you do a business plan and financing request?

Bad credit? How to develop 5-star credit in less than six months.

The power and the traps of personal guarantees, and how to avoid them.

How do you adjust your balance sheet when you have a negative net worth?

Report # 2, "28 Ways to Finance Your Venture", tells you how and when to apply these methods.
Two Specific Examples
Build-Out Allowances from Landlords:
Banks will often allow you to count build-out allowances as capital (unless it has to be repaid) in your source and use of funds statement.
While the money comes in and goes out, it does increase the overall cash flow and size of your deal. We recently counted $350,000 of a $1.5 million deal against equity, when obtaining a $350,000 loan for a client. The other $800,000 came from the founders and investors. By counting the build-out allowance as equity, the debt-to-equity ratios were much more solid.
Vertical Integration:
Often, capital can be raised from outside companies that have a vested interest in developing either distribution channels, or assuring themselves of adequate product flow from cash-starved companies. Two examples:
A distributor invested in his supplier in order to assure himself adequate inventory.

An oil company franchiser provided startup capital for one of our clients when asked. Although treated as a long term loan by the oil company (it only had to be paid back if the company didn't reach its distribution quotas), from the bank's standpoint, it was a capital infusion.
Detailed Information Available:
We have also arranged investments from architects, accountants, lawyers and other suppliers for our client companies. All you have to do is present a way for those Angel Investors to be more profitable in their own companies through the proposed investment.
You can order the in-depth report that explains more than 28 Business Financing Strategies. The methods we mention are used by experts and based on the direct experience of our principals and their clients.
As an added benefit, you will receive information on how to obtain financial ratios, performance statistics, and other key ratios used by investors and banks when making funding decisions.
"Our goal is to provide you the best funding tools available and to get your project funded quickly."
Bill McCready, CEO
Venture Planning Associates,
"Out of the hundreds of sites offering business plan products and services, your VenturePlan site is among the best, if not the best. "
Mike Rischard CPA, President, Agilecor

"When we received first round funding ($5 million) the VC firm asked us to show them how our financial models were created. They wanted to use OUR TEMPLATE (which we developed from the 7 Venture Capital Reports) to help them evaluate alternative scenarios for their portfolio companies!" Michael .Lay, CFO, e-Commerce Internet Company