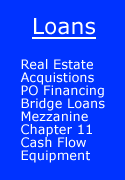 13 Reasons Businesses Fail
Why Do Businesses Fail? Ask yourself these questions
Entrepreneurs seeking venture capital for business expansion call us every day. All too often, the perceived need for additional funding is really a need to become more efficient, using resources already available, and increasing marketing efforts.
According to Corporate Economist Philip B. Nelson, there are 13 "Bad Luck" causes of financial trouble directly attributable to management (and government).
Errors of Omission (i.e. lack of foresight, anticipation or experience)
Lack of planning to cover increasing debt or interest rates [23.3%]
Changes in the market place (nothing stays the same) [66.6%]
Technological changes to the market that bypass your company [13.3%]
Changes in the physical environment (often occurs slowly) [3.3%]
Disruption of key relationships (loss of key clients, financing, etc.) [36.6%]
Errors of Commission (yes, it's a "do it to yourself project")
Over expansion (too many [government] employees, offices, products) [66.6%]
Over leverage (works great during expansions, remember the "bubble") [53.3%]
Over diversification (what business are you really in and what makes the money?)
Over dependence on one customer, supplier, product, etc. who suddenly disappears or changes the relationships [13.3%]
Inadequate control systems (does your accounting, manufacturing, etc. system give you the answers you need right now?) [80.0%]
Dissension among the management team (it is a team isn't it?) [40.0%]
Has the business reached its "level of incompetence"? [46.7%]
Lack of Leadership by the chief executive. One of my favorite books is entitled, "If I'm in Charge, Why is Everyone Laughing?". [83.3%]
Now that "We have met the enemy and he is us", how can we recover?
How to solve existing financial problems and prevent new ones
Avoid denial of the problems. This is vital. Early recognition of the symptoms of a sick company, and willingness to act, is the best hope for an early and successful recovery.
Don't let yourself fall for "escape hatches" and last minute "saviors".
Be willing to put the survival of the business above personal agendas and competing issues.
Get professional help early and often. We recently helped a client convert over $3 million in debt to equity, and then refinance the one remaining loan in its debt portfolio.
Do everything possible to control all costs. Can you automate, use part-time help, re-negotiate rents, restructure responsibilities, out-source production, etc.?
Find ways to use current assets (both people and tools of the trade) in a more efficient manner.
Explore ways to increase sales. Is there enough margin to allow expansion of your sales efforts? Many companies make the mistake of cutting sales commissions and incentives during tough times, when just the opposite is called for.
Measure the effectiveness of your advertising? Does your advertising follow your marketing plan? Are advertising dollars quantifiable?
Know "when to hold 'em and when to fold 'em".
Most importantly, do not run away from the problems. If, after a thorough evaluation, you determine that you really do need expansion capital , there are numerous ways, actually more than 30, besides formal venture capital, to go about obtaining it.
How is My Business Doing?
Hit your goals, and avoid the disasters!
Learn what the experts say is critical about your business and its survival. What are the Financial and Management issues you should know about?
Learn the key elements that affect liquidity, growth and profitability.
Which financial control systems, management methods, and information control systems determine your success or failure?
Is management multiplying or dividing your business equation?
What about the CEO's leadership? Key Managers? The Board of Directors?
What about over diversification, over leverage, and over expansion?
What about the external factors of banking relationships?
How is your legal posture and your legal protection?
Do you have a single vendor or single customer dependence?
What about changes in the market, technology, or environment?
What financial calculation can you use to get a 95% accurate picture of financial health?
When do you pat yourself on the back, and when do you call for help?
To get the answers for your business, order this important and in-depth Business Fitness Test . Designed by experts, it's based on thousands of company profiles. You will find out whether to breath easier or call 911. As an added benefit, you receive a complete book of financial analysis tools to better manage your business.
"Our goal is to provide you the best funding tools available and to get your project funded quickly."
Bill McCready, CEO
Venture Planning Associates,
"Out of the hundreds of sites offering business plan products and services, your VenturePlan site is among the best, if not the best. "
Mike Rischard CPA, President, Agilecor

"When we received first round funding ($5 million) the VC firm asked us to show them how our financial models were created. They wanted to use OUR TEMPLATE (which we developed from the 7 Venture Capital Reports) to help them evaluate alternative scenarios for their portfolio companies!" Michael .Lay, CFO, e-Commerce Internet Company