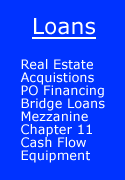 Investor Returns
Funding Criteria
Each stage of funding has its own set of criteria, and its own group of individuals who work in that field. The earlier the financing stage, the greater the risk, the greater expected return, and the greater percentage private investors and venture capitalists will request.
Don't be surprised if an investor asks to control of up to 90% of your company. Entrepreneurs, however, are usually given the opportunity to earn back controlling interest if certain milestones and performance standards are met.
Also, the earlier the stage, the more difficulty will be encountered in raising the initial capital. It may take six months to a year to locate the proper partner for your business.
Private Placement Returns
Start ups, 10-12 times return in 5-7 years.
Existing companies, 5-7 times investment in 4-5 years.
Why are expected returns so high?
Quite simply, because of all the non-performing investments, or losses, and the lack of liquidity and the availability of other opportunities. Once invested with you he may not see a return for several years, if ever. And, he has the loss of a more liquid investment that could have been realized.
In order to have excess cash available for your business, the private investor may have had to earn three times the amount he is investing in your business. He must earn enough to cover his overhead, enough for taxes and finally his investment money for you.
Consider these Venture Capital Statistics
The compounded Venture Capital Return Rate over many years is approximately 17.8%.
In order for a Venture Fund to be profitable, it must assume at least 50% of its investments will at best make only a small profit.
Approximately 25% of the investments will be sold or liquidated.
Of the remaining 25%, about half will go public, and generate compounded returns exceeding 60-120%.
In the second quarter of 1998, over $1.25 billion was invested in the Silicon Valley Region. $341 million in internet startups alone!
Report #7 , "Private Investors", provides special tables of Cash Returns, Investment Periods, Discount Factors and Rates of Return (ROI) used by private investors and venture capital firms.
Valuation studies should be made by both parties in order to accurately determine the amount and type of debt and equity that will optimize the investment for both the entrepreneur and the investor. Follow-on stages of financing should also be considered.
The importance of the cost of capital and the eventual amount of equity dilution to you and your initial shareholders cannot be overstated.
Besides Venture Capital, there are more than 28 methods of " guerrilla financing " that do not require venture capital to finance your operations.
Venture Capital Search: Venture Planning Associates will research both public and private sources of capital and debt financing in the U.S. and Asia for your venture. Depending on the size and type of project, a listing of 10 sources will be provided. Assistance is also available for presentations and negotiations to prospective investors.
"Our goal is to provide you the best funding tools available and to get your project funded quickly."
Bill McCready, CEO
Venture Planning Associates,
"Out of the hundreds of sites offering business plan products and services, your VenturePlan site is among the best, if not the best. "
Mike Rischard CPA, President, Agilecor

"When we received first round funding ($5 million) the VC firm asked us to show them how our financial models were created. They wanted to use OUR TEMPLATE (which we developed from the 7 Venture Capital Reports) to help them evaluate alternative scenarios for their portfolio companies!" Michael .Lay, CFO, e-Commerce Internet Company