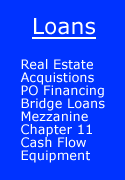 Recent Projects Completed
Business Plans
Valued a family limited partnership for owner disposition by sale after buy out of 1 of 5 family members.

Structured a complex fund raising for an LLC General Partner with a Reg D Limited Partnership, including valuation and pro forma forecasts.

Developed and installed complete eCommerce engine for an LPGA golf professionals web site and redesigned complete new marketing strategy.

Completed two Reg D 504D offering consultations for clients in the Health and Fitness and the Golf Franchise industries.

Raised $6 million in Venture Capital from two venture funds for ramp up of a web based streaming video business.

Acquisition of a web portal, restructuring and monetization, via affiliate and directory setup. Traffic increase of 500%

Business and financial plan for internet B2B streaming video company, $5 million first round $15 million second round. Money raised successfully with Power Point plan and extensive financial model

Business & Financial funding plan for Internet B2B service provider, $3.5 million first round. Executive summary and financial's only.

Foreign food manufacturer and US nationwide import distribution Business Plan.

Entertainment park development and construction Financing Plan.

Advertising and newspaper development and expansion plan.

Start up Business Plan,Valuation and Funding by debt and equity of children's fitness center, $1.3 million.

Business Plan for successful leveraged buyout of media enterprise, $1.5 million with 95% leverage.

Business Plan, Financial Structuring, Seed Capital and assembling Management Team for national insurance group.

Computer software company business plan for national distribution.

Business plan, international sales and distribution system for agricultural waste burning power plant.

Business and financing plan for $230 million mixed-use real estate project.
Bank and Government Loans
Start up loan for retail store, $350,000.

Bank loan for expansion of transportation company, $100,000.

Hawaii Capital Loan for Hawaii-based wholesale retail business, $750,000.

SBA Emergency Disaster Loan for small business, $287,000.

Real estate guaranteed stock acquisition loan by principal, $1.25 million.
Equity and Cash Flow Funding
$3.5 million debt to equity conversion and subsequent $3 million sale of assets for a communications company.

$1.5 million LBO for a radio station and subsequent asset sale for $2.2 million.

$2 million in purchase order financing with a factoring take-out process for startup consumer products company.

$3.35 million debt-to-equity conversion and re-capitalization of a media enterprise.

Internationally recognized bar and restaurant chain in Australia, $1.8 million.

Hawaii and West Coast based clothing manufacturer, $1,560,000.

Radio station acquisition financing, $385,000.
Management Consulting
Honolulu International Airport management and manpower loading study.

Business Finance Courses, University of Hawaii Small Business Management Program.

Entrepreneurial training program, United Nations Development Program in Kingdom of Bhutan.

Bell Laboratories, Nuclear Power Plant Operational Safety Studies.
Marketing and Sales Development
National syndication and production of a one hour weekly radio program.

Development of direct mail programs for Hawaii and mainland U.S. firms.

Development of customer retention and acquisition programs for service companies.

600% expansion of sales volume for printing company.

Development and implementation of commercial janitorial service marketing and sales programs.

Development of wholesale distribution network in Hawaii, Japan, Taiwan and Australia.

Implementation of Computerized Medical Records system for major HMO.

Customer service, telephone sales, and computer program monitoring for regional airline.

Award winning trade show exhibits , presentations and representation.
Real Estate Development
Business and financial plan for $140 million office condominium complex.

International mixed-use real estate development of $230 million project with hotel, office, and condominium complex.

Development and implementation of Mauna Kea Observatory Complex State Master Plan, now the world's largest astronomical complex.
"Our goal is to provide you the best funding tools available and to get your project funded quickly."
Bill McCready, CEO
Venture Planning Associates,
"Out of the hundreds of sites offering business plan products and services, your VenturePlan site is among the best, if not the best. "
Mike Rischard CPA, President, Agilecor

"When we received first round funding ($5 million) the VC firm asked us to show them how our financial models were created. They wanted to use OUR TEMPLATE (which we developed from the 7 Venture Capital Reports) to help them evaluate alternative scenarios for their portfolio companies!" Michael .Lay, CFO, e-Commerce Internet Company